Prioritized Payer Programs Provider Office is Enrolled In

The initial screen shows a list of payer programs that the provider office is enrolled in with various plans that they contract with. Each of these incentive contracts are prioritized by the office's program manager. This application is specifically designed for front desk admin staff, to help deputize them, and get them involved in patient outreach efforts that will ultimately lead to fulfillment of various program requirements. These efforts will also greatly benefit high-risk population patients and ensure that they are receiving the proactive care they need to in order to avoid experiencing acute, critical health problems.
Payer Incentive Program Dashboard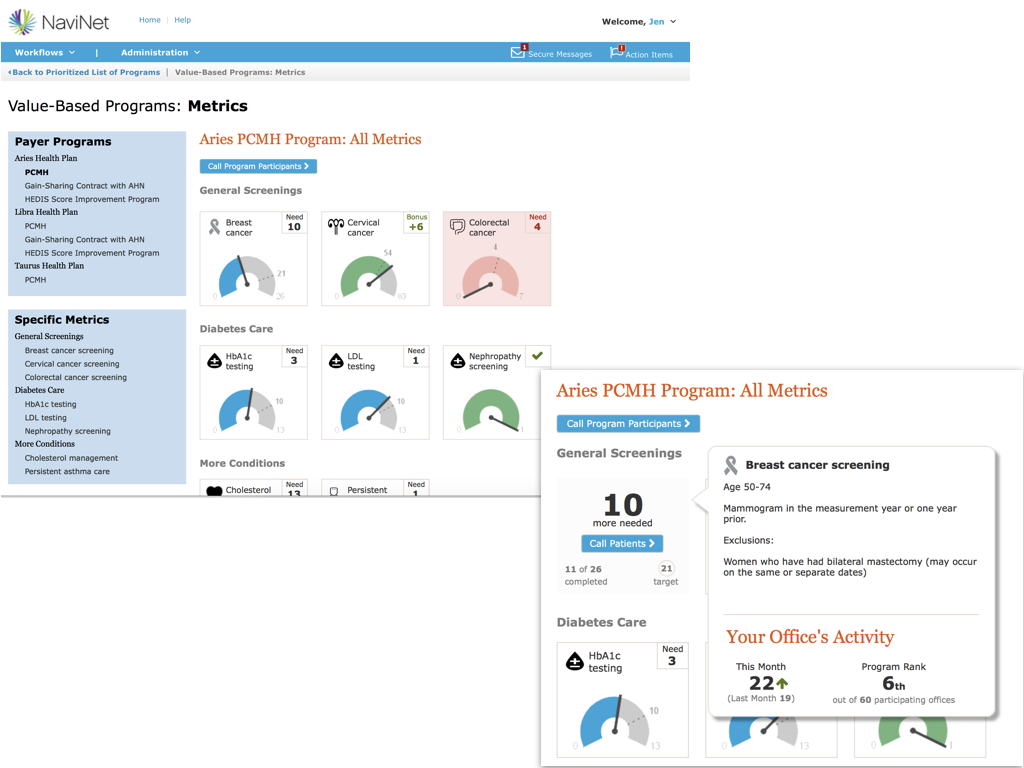 When a user clicks on a specific payer incentive program, she is brought to a metrics dashboard with a number of graphical dials. Each dial represents one of the program's quality care measures (e.g. breast cancer screenings, HbA1c tests for diabetics. They show, at a glance, how many care gaps have been fulfilled to date, as well as how many are still needed to reach the required target. Rolling over a dial reveals more information about the measure, including comparative performance metrics across time and between offices. This helps users determine how well they are handling these activities from month-to-month, or in relation to other PCP offices that are enrolled in the same value-based care program.
View a Particular Measure Across All Payer Incentive Programs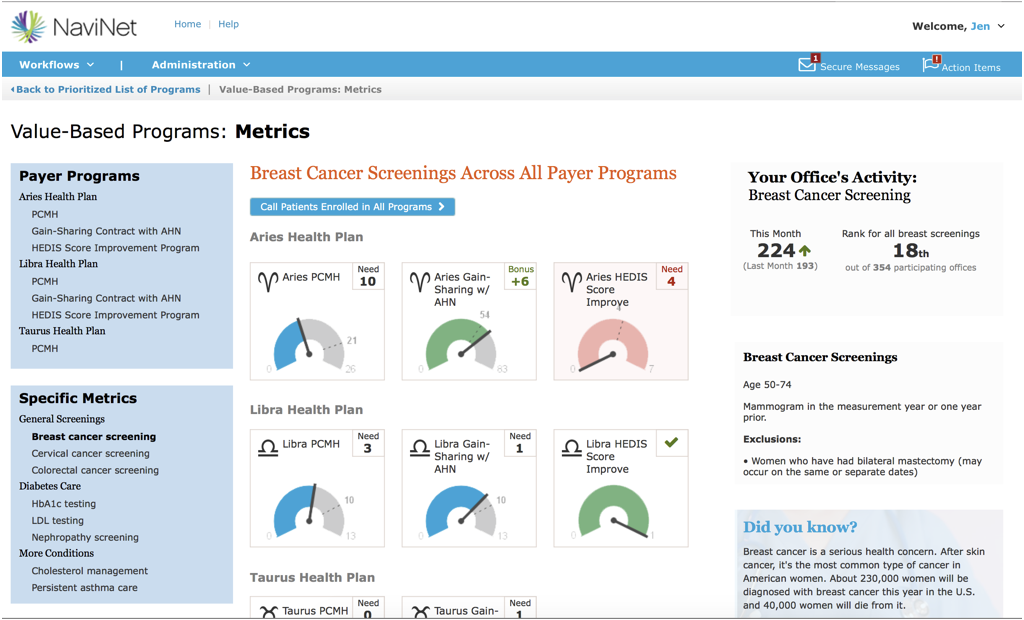 Users can also view a particular measure, such as breast cancer screenings, across all payer programs that the office is participating in. This is a very powerful feature, as it allows users to see, within a single view, the thresholds they need to meet on a particular measure in order to fulfill requirements for each program. Today, each health plan mails separate reports for every program, and there is no easy way for office staff to see such an aggregated meta view.
Patient Call List for High-Risk Population with Built-In Gamification Mechanisms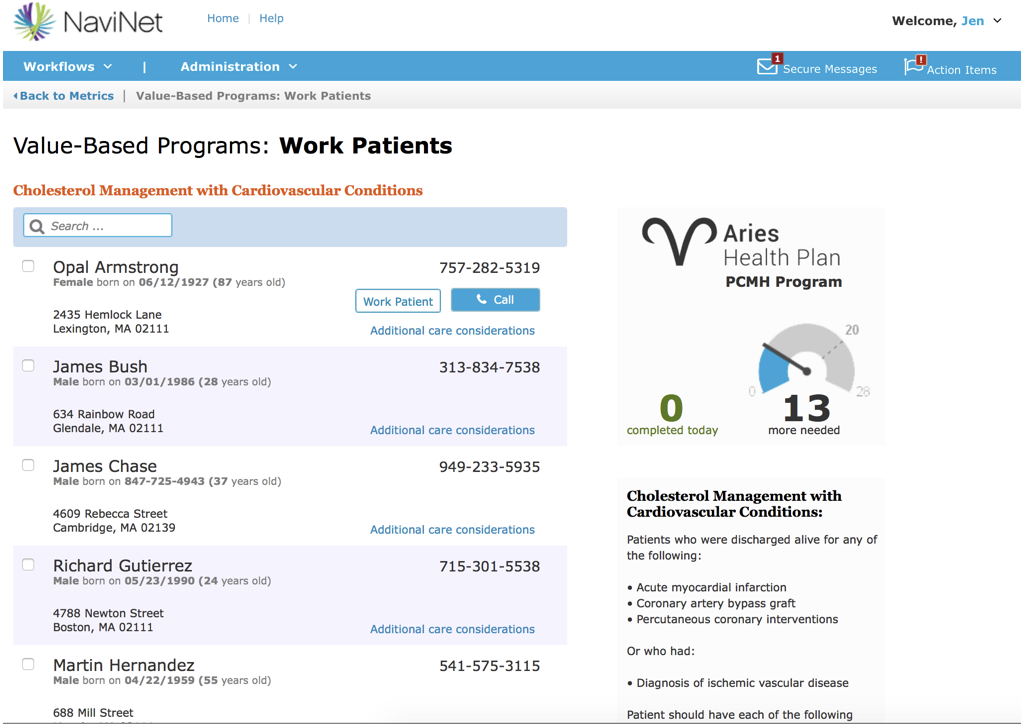 Clicking on the "Call Patients" button brings up a list of high-risk population patients who are enrolled in the care program and still have not had the care gap addressed. Contact information is provided for each patient so that the user can immediately pick up the phone and start making appointments. On the right sidebar, users can see how many care gaps they have completed that day and how many more are required to meet the required target. The sidebar also contains a detailed description of the measure.
Interactive Patient Action Checklist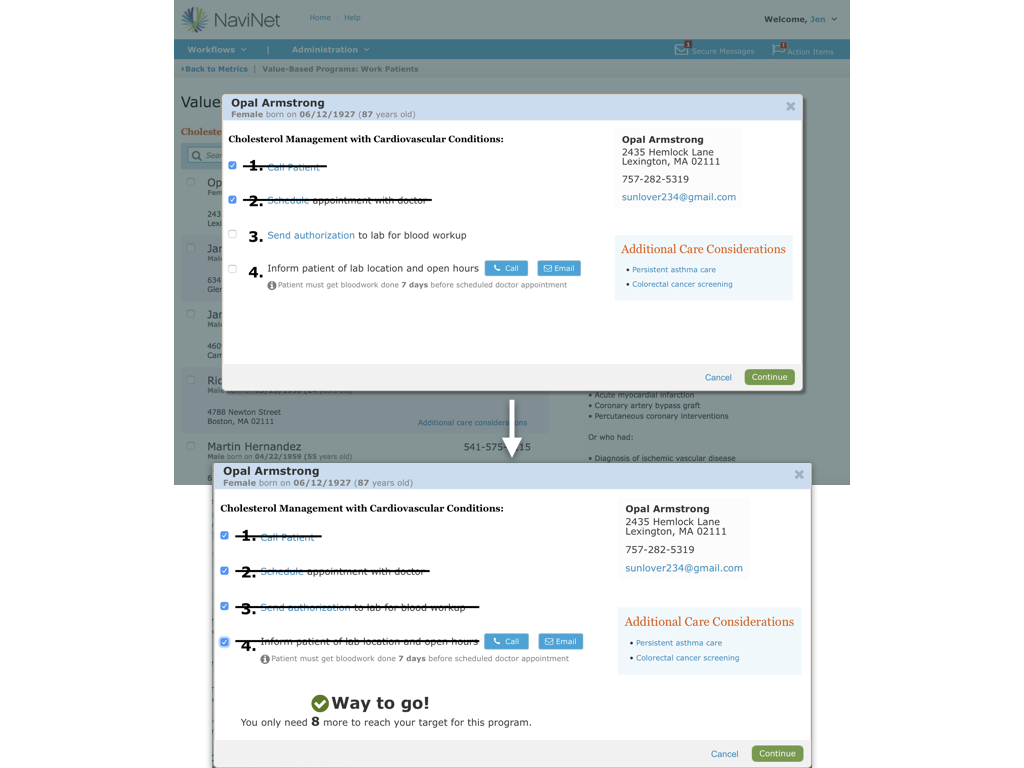 If users need more guidance, they can click on a specific patient and view a straightforward checklist of actions that must be taken in order to reach out to that patient. As each action is completed, they can be crossed off. Additional care considerations are also displayed so that the staff member is able to address all of the patients needs in one single call. As they close out patient care gaps, staff are continuously encouraged with positive feedback messages.