Study Overview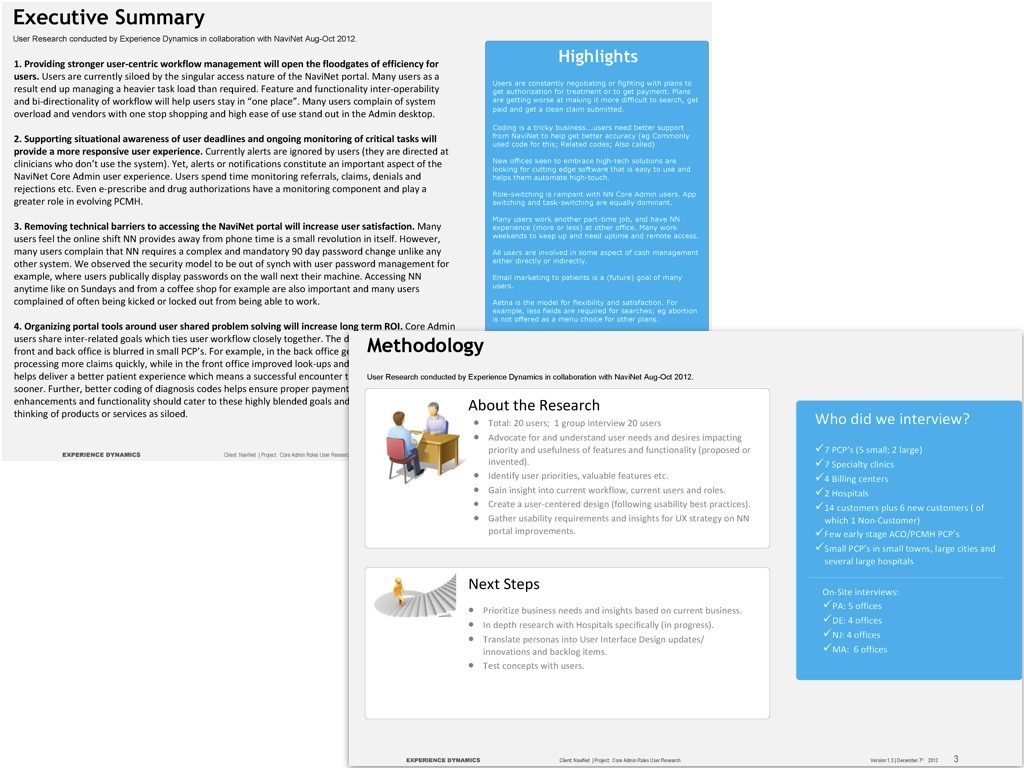 During this field study, we spoke to 40 participants from PCP offices, specialist offices, hospitals, billing agencies, and central billing offices. We traveled across Massachusetts, New Jersey, Pennsylvania, and Delaware, visiting the various sites. We summarized our findings with a set of high-level recommendations and research highlights. Some of these recommendations included (a) designing a better tasking and alerting interface that optimally supports monitoring of critical tasks and important deadlines, (b) making the portal's security model more user-friendly, (c) stitching individual, siloed applications together into cohesive solutions that naturally match the real-world workflows of NaviNet's users, and (d) better supporting the team-based approach to patient care and office administration that is common in most offices.
Office Types and Their Unique Characteristics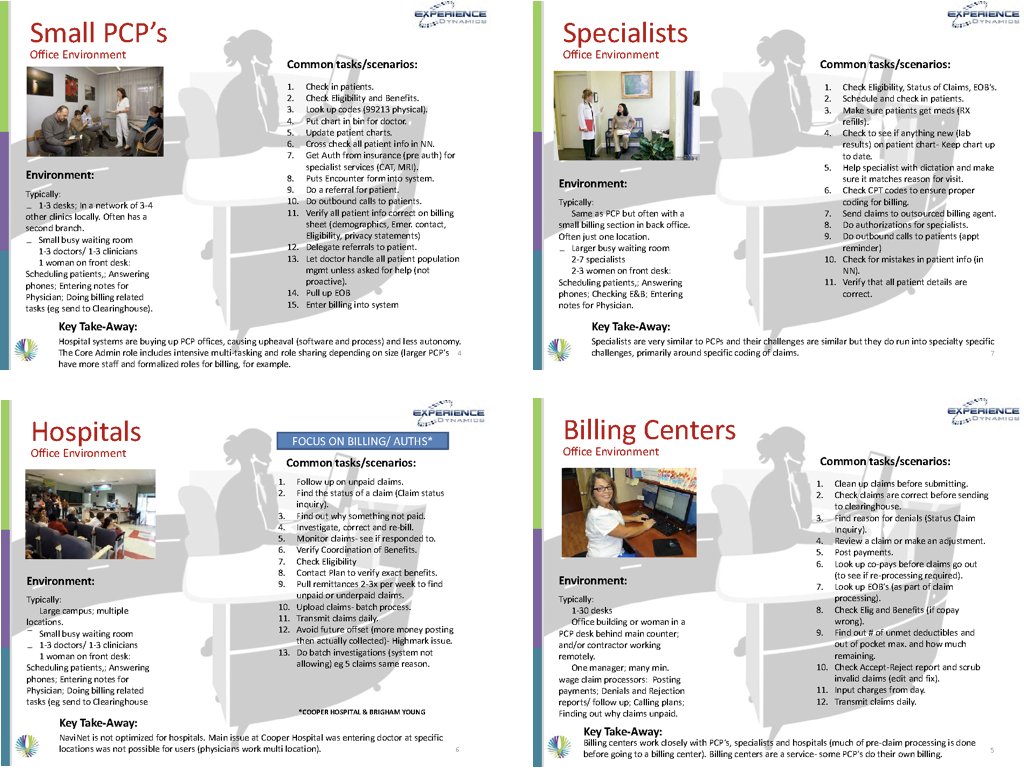 We provided a general characterization of each site type: small PCP offices, specialists, hospitals, billing agencies, etc. In these office profiles, we discussed pervasive characteristics about the environment, common tasks and scenarios that occur within each office, and key takeaways.
Generalized Profiles for Official Job Positions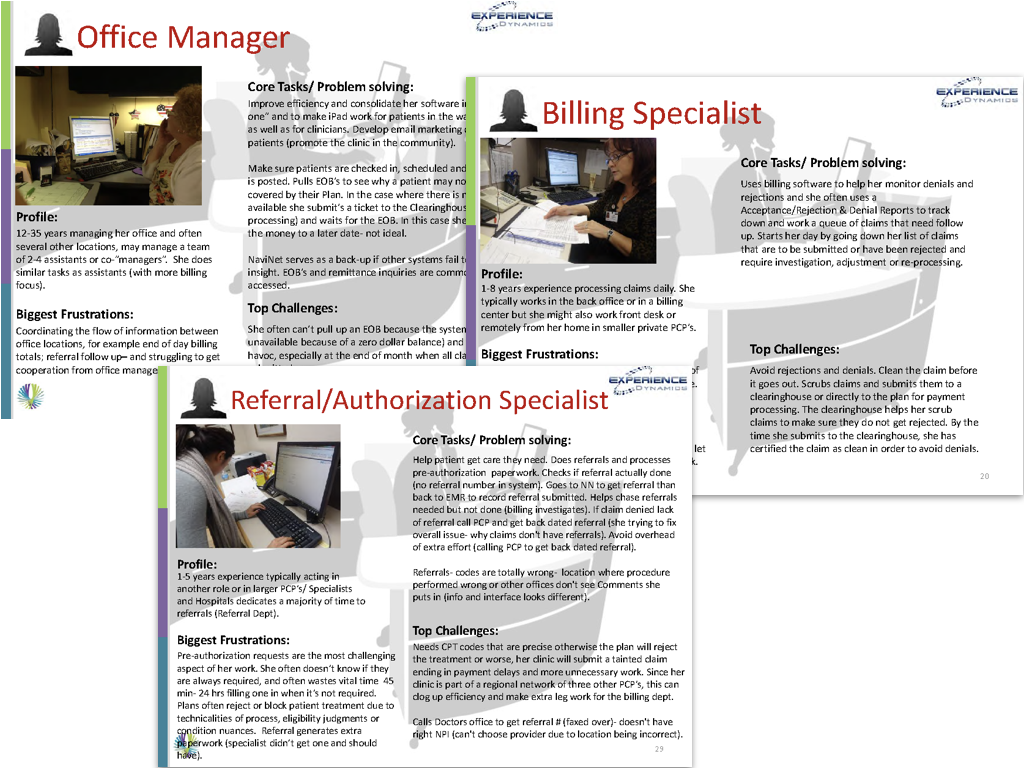 We also produced profiles for the major, official job roles that exist in most offices. These positions included office managers, billing specialists, and referral/authorization specialists. In each profile, we listed core tasks, biggest frustrations, and top challenges.
Personas
We then translated our research findings into 8 personas: 4 primary and 4 secondary. One of our most interesting "aha moments" in this study is that most administrative functions in an office are centered around communicating with health plans and making sure that claims get maximally paid. Therefore, many of our personas reflected this mission. They were centered around processing and investigating claims, process improvement, and tracking down items that the health plan requires before they issue payment on claims and quality care program incentives.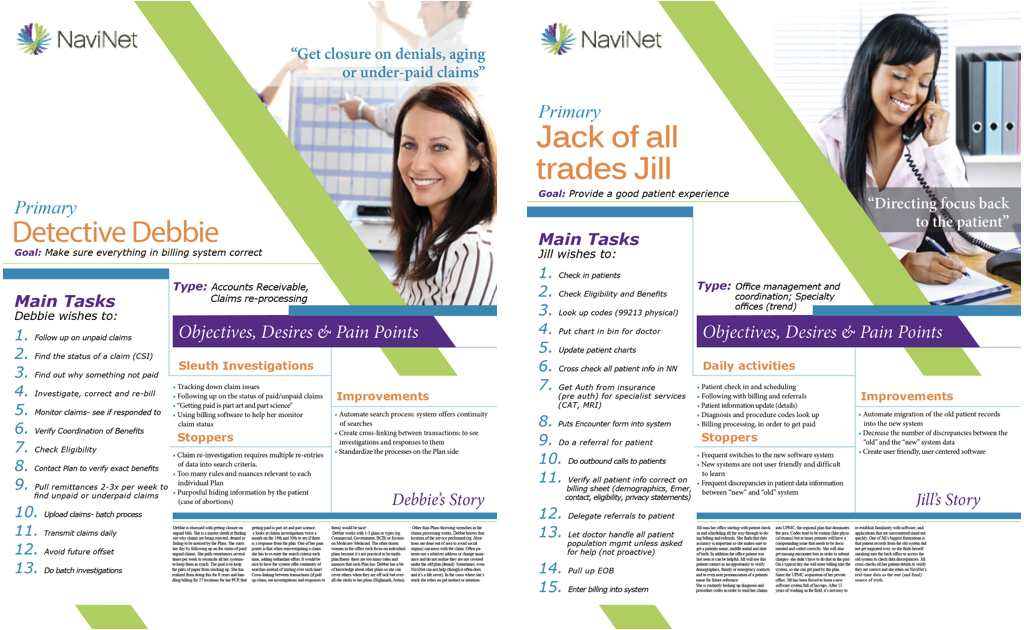 We later reformatted each persona that we produced in this study into large posters so that we could put them up on our User Experience Wall and better socialize them across the entire organization.
User Journey Maps for Each Persona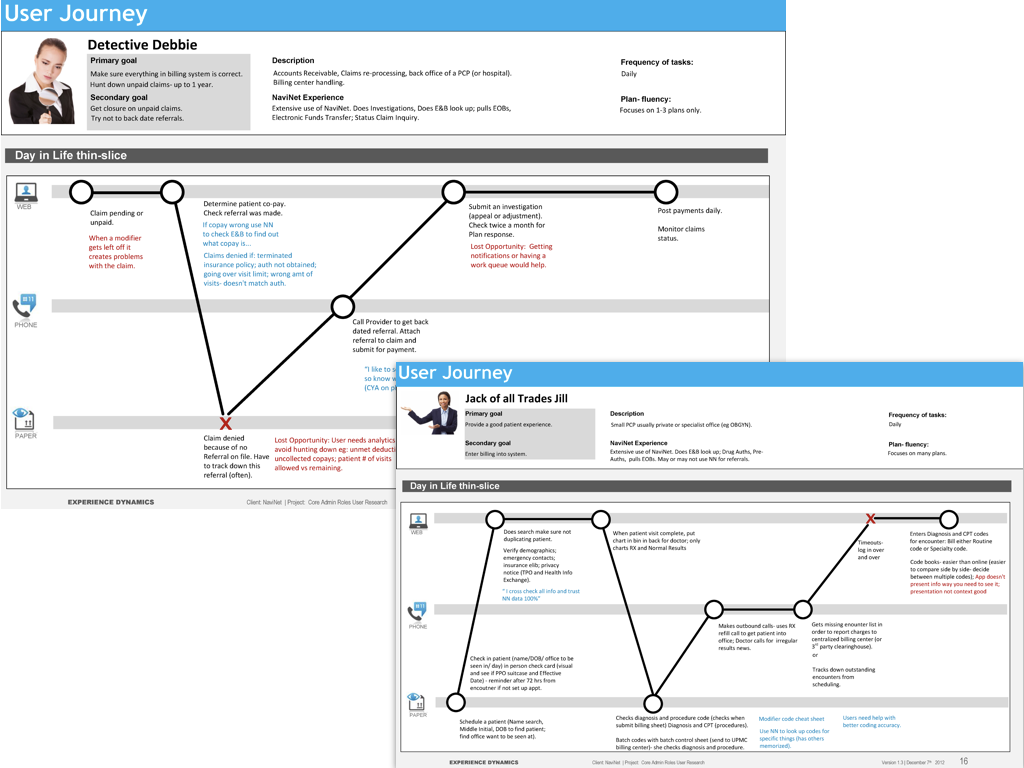 We created user journeys (day-in-the-life slices) for each persona. In each user journey, we illustrated various tasks that provider staff performed using various media channels, including the Internet, the phone, and paper/fax. We also indicated major pain points, throughout these journeys, that put a strain on their every day workflows. Such gaps indicated potential opportunities for NaviNet to help improve office operations.
Key Findings: Critical Pain Points, Desires, and Technology/Workflow Highlights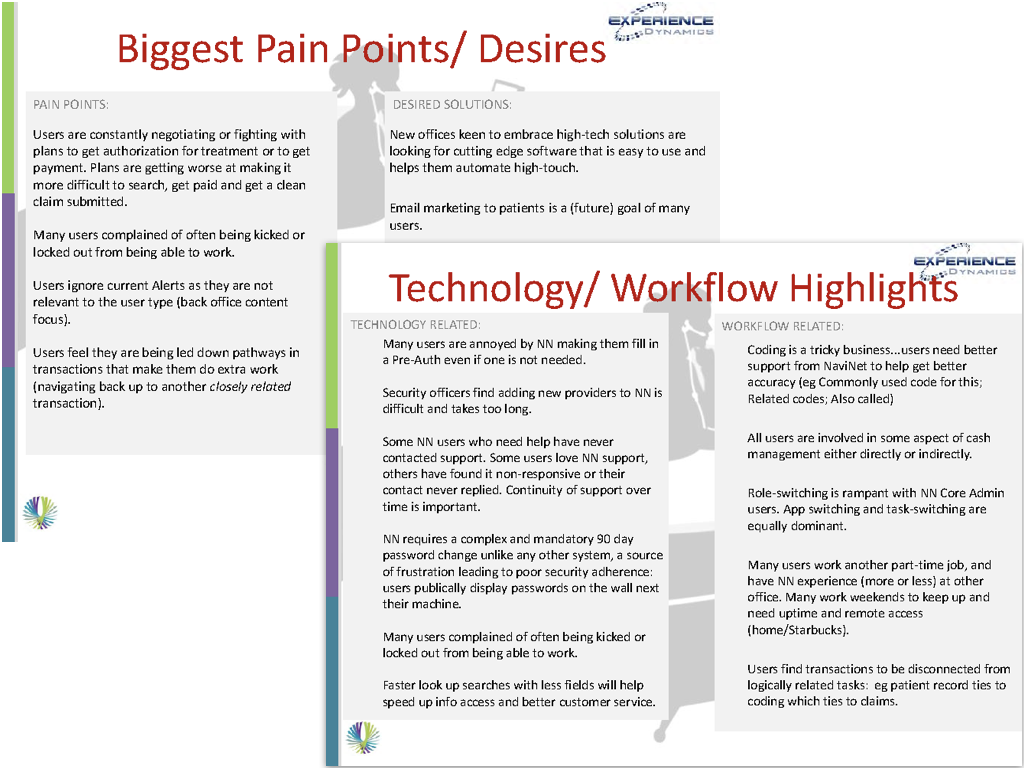 We summarized the most critical pain points and desires across all personas. We also provided technology- and workflow-related highlights, based on our observations and interviews that we conducted in each office. Our research at one particular hospital uncovered a huge issue that various department staff had been dealing with for many months in regards to selecting the correct providers on referral and claim submissions. The problem had become a significant drain on their resources and productivity. This discovery eventually lead to the kickoff of a major customer support project, in which NaviNet's Operations team worked side-by-side with the hospital to help them reorganize and clean up their provider data, in an effort to make it more user-friendly for their staff to utilize within the NaviNet portal.
Identified Specific NaviNet UX Issues and Provided Recommendations for Improvements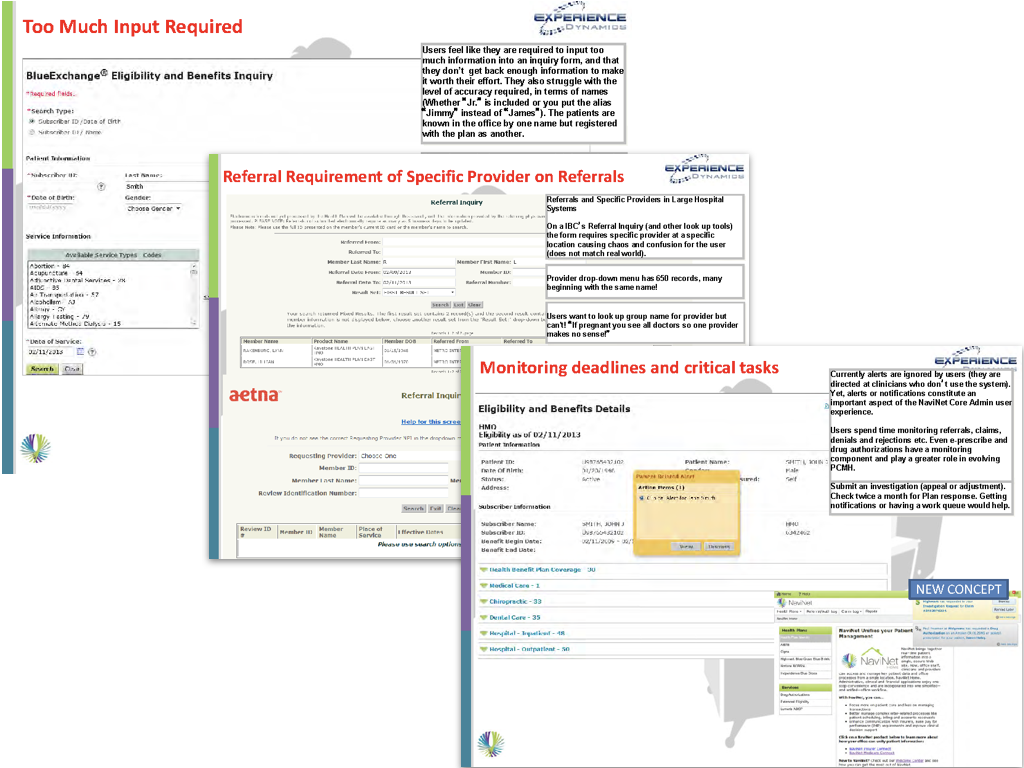 We called out specific NaviNet user interface problems that were brought to our attention throughout the course of the study, and offered recommendations for improvement.
Collected Artifacts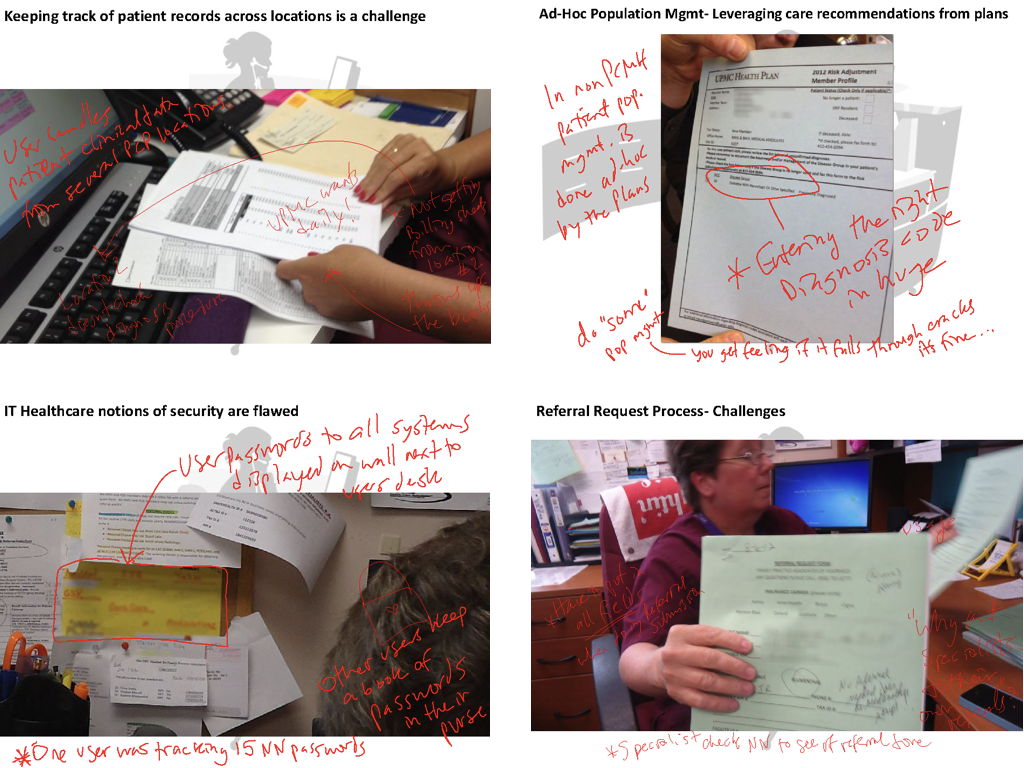 We collected numerous artifacts from each office, including many physical, paper-based tools that provider staff used within their workflows every day.
Participant Quotes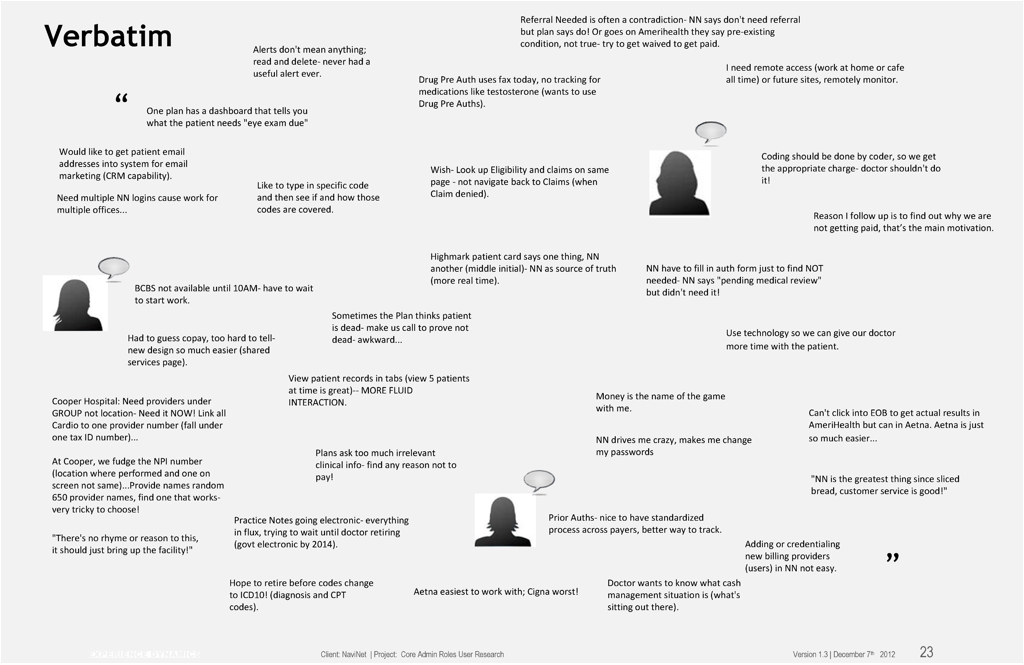 Finally, we extracted a considerable number of direct quotes from the discussions we had with users in order to support our main findings, build empathy amongst stakeholders, and viscerally emphasize the frustrations that these users were experiencing on a regular basis.